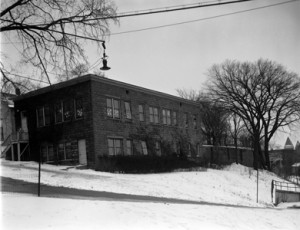 Plymouth Christian Elementary School began as the Hastings Street Christian School in 1908.
Hastings Street
Edit
Under the leadership of Rev. Pieneman, the Hastings Street Christian School was begun in 1908 with Mrs. Kate E. Hogle teaching in English and Mr. K. Winters teaching in Dutch. The school was built at 4 Hastins St. NE over the summer, and classes began in September.
In this photo, the playground was to the left, higher than the school. The school was torn down to make room for the freeway.
Plymouth Avenue
Edit
Ad blocker interference detected!
Wikia is a free-to-use site that makes money from advertising. We have a modified experience for viewers using ad blockers

Wikia is not accessible if you've made further modifications. Remove the custom ad blocker rule(s) and the page will load as expected.